Welcome to ITST 2005 in June, 2005
Welcome also to Brest at the westernmost tip of France. The exceptional setting of the deep, well-protected natural harbour was the main reason for the expansion of the town in the 17 th century and the construction of the naval dockyards along the banks of the Penfeld River. (discover the old Brest in postcards and photographs).
Brest rebuilt in haste at the end of the 40's, is now a town of 220,000 inhabitants, oriented towards the sea, with a lively colourful commercial port, a naval harbour and dockyard guarded by an impressive XIII th century castle, and a yachting harbour with its famous sailors like Olivier de Kersauson.

The main industrial activities of the Brest area include high-tech electronics, military naval constructions, mechanical engineering, telecommunications and food processing. Brest is also a large University town with six science and arts faculties, seven major Graduate Schools, 25,000 students and over 3,000 research scientists.
ITST 2005 will give the opportunity to scientists and engineers to exchange ideas, information and results on telecommunications ITS applications.

The congress center "Le Quartz" will accommodate the conference attendees from 27- 29 June, 2005.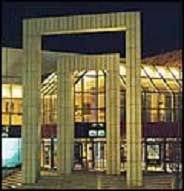 www.lequartzcongres.com